The Museum's collections include many significant pieces from the Carlist Wars : personal and military belongings of Tomás Zumalacárregui and his family; weapons and uniforms from the period; coins and early stamps; valuable collections of documents, reports, proclamations, letters on a number of topics; newspapers; oil paintings, water-colours, engravings and other pictures; collections of books including biographies, scientific volumes and books of general interest from the 18th, 19th and 20th centuries; maps and charts, plans, blueprints and atlases, etc.
Objects
Documents
Library
Pictorial works
Maps and charts
Description of collections
Objects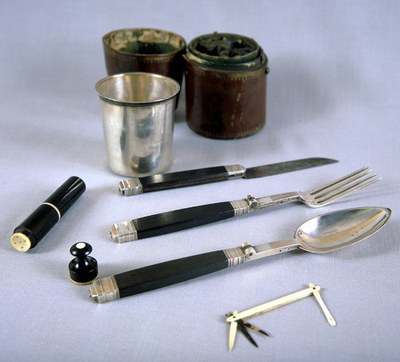 Field mess kit. 19th century. Owned by Tomás de Zumalacárregui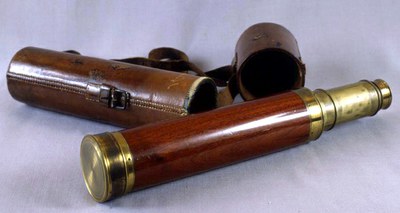 Field-glass. 19th century. Owned by Tomás de Zumalacárregui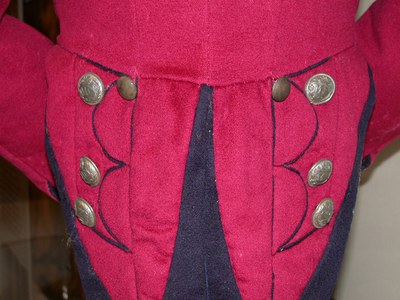 Detail of a Liberal cavalry uniform
Documents
The museum holds around 4000 hand-written and printed documents, sorted into various collections as described below.
The documentation centre is open to researchers of all kinds.
Originals:
García Moreno collection:
The Count of Alcudia collection. 56 hand-written documents. 1834-1842.
The Viscount of Alcira collection. 150 hand-written documents: 1834-1897.
Marquis of Las Hormazas collection::
Zumalacarregui-Ollo. 510 hand-written documents. 1833-1886.
Elio-Zubizarreta, Marquises of Las Hormazas. 126 hand-written documents. 1834-1912.
5th Bizkaia Battalion collection. 352 hand-written documents. 1834-1839.
The Provincial Council of Bizkaia collection et al.. 207 printed documents. 31-X- 1838/10-VII-1839.
Bibliographic collection: 26 hand-written documents. 1796-1893
Lord John Hay collection: 22 hand-written documents. 1835-1856.
Miscellaneous collections. 144 hand-written documents. 1793-1869.
Tastet collection:: Description
Dossier 1: 7 printed documents, 22 doc. From the Carlist war & others . 1830-1868
Dossier 2: 19 hand-written docs. Napoleonic wars, the Liberal Triennium. European Empires. 1813-1864.
Dossier 3: 39 hand-written docs. Family & financial affairs. 1822-1868.
Mateo Seoane y Sobral collection:
General correspondence. 359 hand-written docs.  30-I-1836/3-V-1836.
Hospital correspondence. 276 hand-written docs. 1836-IV-1 /1836-VI-19.
Reports. 38 hand-written docs. 1836-I-30/1836-VIII-6.
Lists, acknowledgements & other hand-written docs: 278 pp. 1836
Lángara collection. 37 hand-written docs. 1821-1852.
Provincial Council of Vizcaya collection & others. 207 printed docs. 1820-1841.
Jose de Leon collection. 440 hand-written docs. & 10 printed docs. 1867-1876.
Harispe collection. 224 documents. 1835-1848.
Sundry collections:
Prior to the opening of the Museum. 124 docs. 1761-1843.
Latest acquisitions:
Liberal Triennium Collection. 19 hand-written docs. 1824.
Carlist Proclamations collection. 143 printed docs. 1834-1839.
Passports collection. 14 docs. 1824-1846.
Newsletter & prospectus collection. 55 printed docs. 1820-1870.
KM collection. 223 printed docs. 1833-1837.
Miscellaneous . 51 docs. 1800-1874.
Reproductions:
Ayala collection. 468 docs. 1732-1872.
Zavala collection:
Pamphlets. 17 items. 1815-1896.
Documents. 131 items. 1796-1890.
Press. 5 titles. 1811-1832.
Ruiz de la Prada collection:
Hand-written. 24 items. 1808-1815.
Printed. 174 items. 1794-1817.
Gomendio-Larrañaga collection. 49 hand-written docs.. 1833-1835.
Benavides collection. 16 documents. 1831-1888.
Amestoy collection. 3 docs. 1838.
López-Mendizabal collection. 5 docs. 1813-1836.
Public archives. 68 docs. 1797-1886.
Location of documents:
Along with these reproductions, documents related to the theme of the Museum have also been located in municipal and other public archives in Álava, Bizkaia, Gipuzkoa and Navarra. We have also located information on the First Carlist War in archives elsewhere in Spain and France such as the Archives of the French Ministry of Foreign affairs, the provincial archives of the Department of Pyrenées Atlantiques in Pau, the Spanish National Historical Archives, the Historical Military Service Archives and the Archives of the Spanish Ministry of Foreign Affairs in Madrid, the general Archives of the Public Administration in Alcalá de Henares, the General Military Archives in Segovia, the Arquivo do Reino de Galicia in A Coruña and the Municipal Archives of Zaragoza.
The Library
Our library specialises in the 19th century, and contains an extensive collection of volumes from that period, enriched by the latest publications on history.
It is open to researchers of all kinds.
19th century: 1000 volumes.
20th century: 2200 volumes.
19th century: 30 titles.
20th century: 40 titles.
Bibliographic references can be consulted at Bibliographic Catalogue.
The documentation service is headed by Mikel Alberdi.

Pictorial works
A collection of stand-alone engravings and engravings in books along with photographs, all from the 19th century. For Basque-related engravings, see also our collection "Album of the 19th century" elsewhere on this website.
· Individual: 500 pictures
· Digitised from 19th century books: 1500 pictures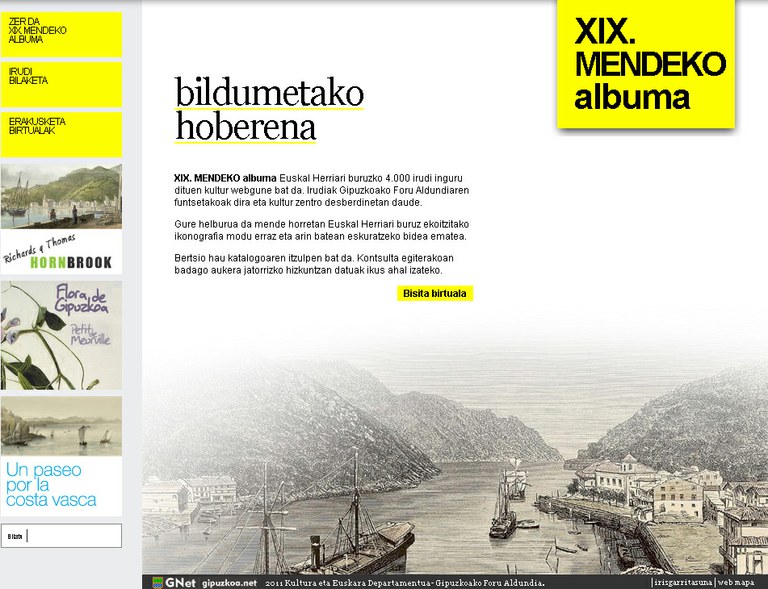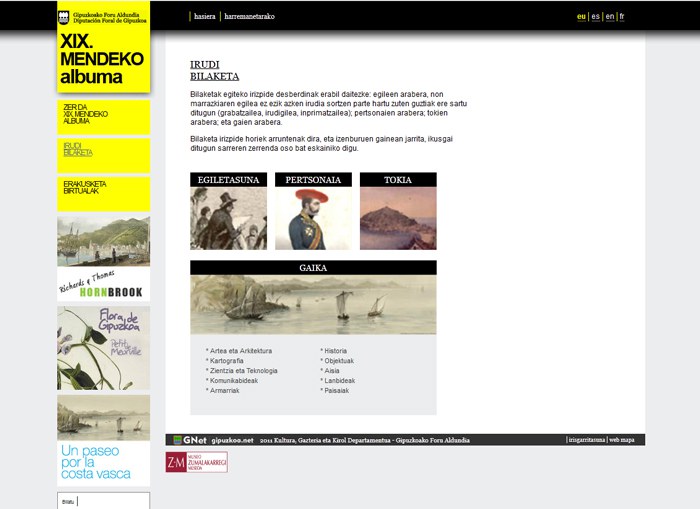 Maps & Charts
This collection comprises individual maps and charts plus atlases and charts attached to books, all of them from the 19th century. Those with a Basque theme can be found in our "Album of the 19th century" on this same website.
270 original 19th century maps and charts.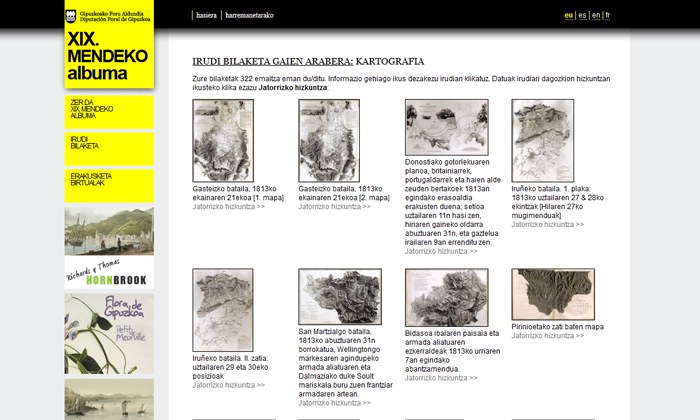 Description of the Collections
Historical research is based on documents. Today's technical resources make it easier for us to learn more about the contents of historical archives before consulting the original documents. It is unfortunately not possible to offer all our documentation in digital form, so we plan to post mentions and samples of our archives on our website month by month that we hope will be of interest to readers.
The Tastet Collection
Maps and plans of the Principal Movements, Battles & Sieges in which the British Army was engaged during the War from 1808 to 1814 in the Spanish Peninsula and the South of France. A great atlas measuring 85 x 67 cm, published in London in 1841: Published by James Wyald, Geographer to the Queen. The places mentioned in relation to battles and troop movements are the following: Lisbon, Roliça, Vimiero, the passage over the River Duero, Corunna, Talavera de la Reina, Almeida, Santarem, Busaco, Monte Junto, Serra Berreguda, Aruda, Sobral, Torres Vedras, Pombal, Condeixa, Cazal Novo, Foz d'Aruce, Cintra, Ceira, Alba, Guarda, Sabugal, Fuentes de Oñoro, Vigia de la Barrosa, Albuera, Tarifa, El Bodon, Arroyo Molinos, Ciudad Rodrigo, Badajoz, Salamanca, Burgos, Vitoria, San Sebastián, Castalla, Pamplona, San Marcial, the passage over the River Bidasoa, the passage over the Nivelle, Bayonne, Orthés, Garis, Aire, Tarbes, Toulouse and the Bay of Cadiz.
Some of the maps have further maps overlaid on them that show the movements of the troops indicated on the map beneath. Also included are layout plans of several cities, including San Sebastián, Vitoria, Salamanca and Cadiz.
In all there are 50 high-quality maps, some of them (specifically those showing the Pyrenees) produced using anaglyphographic techniques to give a feeling of the relief of the land (see photos).